A poor physician's daughter my wife! Disdain
Rather corrupt me ever!
Bertram, All's Well That Ends Well, Act 2 Scene 3

About All's Well That Ends Well
2009's Summer Shakespeare production All's Well That Ends Well is a play about growing up.

While it may be one of the least performed of Shakespeare's comedies, like all his less-familiar works it offers much to delight modern audiences - an outrageous plot, wise and foolish characters old and young, a timeless coming-of-age story packed with tension, surprises, tears and laughter.

It is a universal and wickedly comic coming-of-age story that explores issues of love and respect, virtue both superficial and real, seen from the perspective of both young people and their parent's generation.

A privileged young man lets a false idea of inherited qualities blind him to the love of a virtuous woman, and also fails to realize that his best friend is a fraud. It is only through the determination and cunning of an extraordinary young woman, the wisdom of the older generation, and the inventiveness of others that he finally has the chance to see others through more mature eyes.

The coming of age nature of the play makes it ideal for a place that calls itself Student City, but the city has had a huge influence on how director Peter Hambleton has envisioned the play in its turn. Characters make a number of hasty journeys back and forth between Roussillon, Paris and Florence as the pursuit of (or retreat from) love drives the momentum of the piece. Noticing that many people ride bikes around the city, combined with the opportunity to utilise (and celebrate) the Esplanade's unique Scenic Railway, inspired Peter to include different types of wheeled transport in almost every scene and make All's Well That Ends Well truly "the fastest comedy on wheels".

Performances run over two weekends, first from the 5th - 8th March and then again on the 13th & 14th at the Scenic Railway Station in the Victoria Esplanade, starting at 7pm each night. If the weather is wet we will adjourn to Palmerston North Girls' High School (map below), and each day of the production we will confirm that night's venue on the Blog.

We'll be involved in a number of events around the city in the lead-up to All's Well That Ends Well, so keep an eye on our Blog and Pics pages for news and images of what's going on when and where, and to check the performance venue. When you attend one of the performances, please remember to bring your gold coin koha!
Venues for All's Well That Ends Well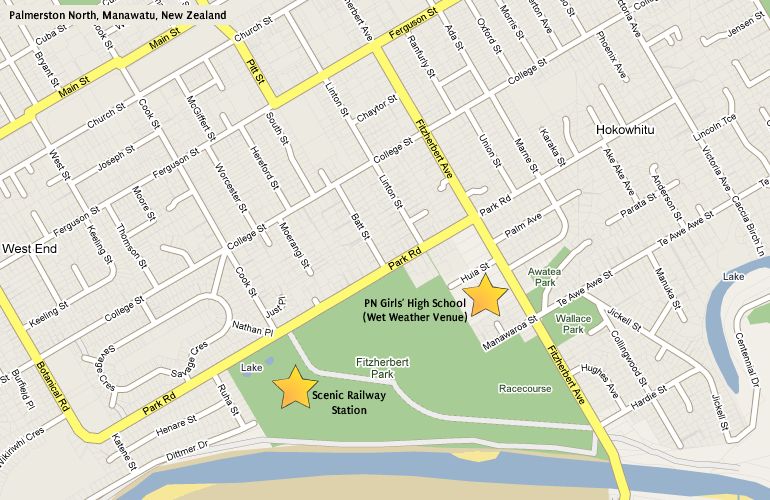 Newspaper Articles
Wheely good fun with the bard by Wendy Shailer-Knight. Manawatu Standard.
Palmerston North, New Zealand: February 12, 2009. pg. 4

Review: Shakespeare does a wheelie by Richard Mays. The Guardian.
Palmerston North, New Zealand: March 12, 2009. pg. 25
Feel free to contact us via manawatu.summer.shakespeare@gmail.com,
or even visit our Bebo page.